Natural stone has been used as a building material for a long time. Although the range of modern materials is quite wide, it continues to be successfully applied in construction. Thanks to its natural properties, it reliably protects a house's foundation from mechanical destruction and negative environmental factors.
The house, faced with natural stone, has a noble aristocratic exterior. However, not every kind is suitable for facing a basement. Basalt, quartzite, or fine-grained granite are usually applied for this purpose.
There can be two ways of facing a house: with slabs of the correct shape or as an imitation of untreated stones. The first method gives the illusion of a house standing on a solid stone slab, while the second of a building standing on an untreated rocks' pile. In both cases, such a facing will exert some load on a house basement. That's why, on the designing stage, it is necessary to find out whether the facing can violate the integrity of the house's foundation.
The facing procedure is a rather laborious process. Working with natural stone requires special knowledge and skills, so it is better to entrust this work to specialists.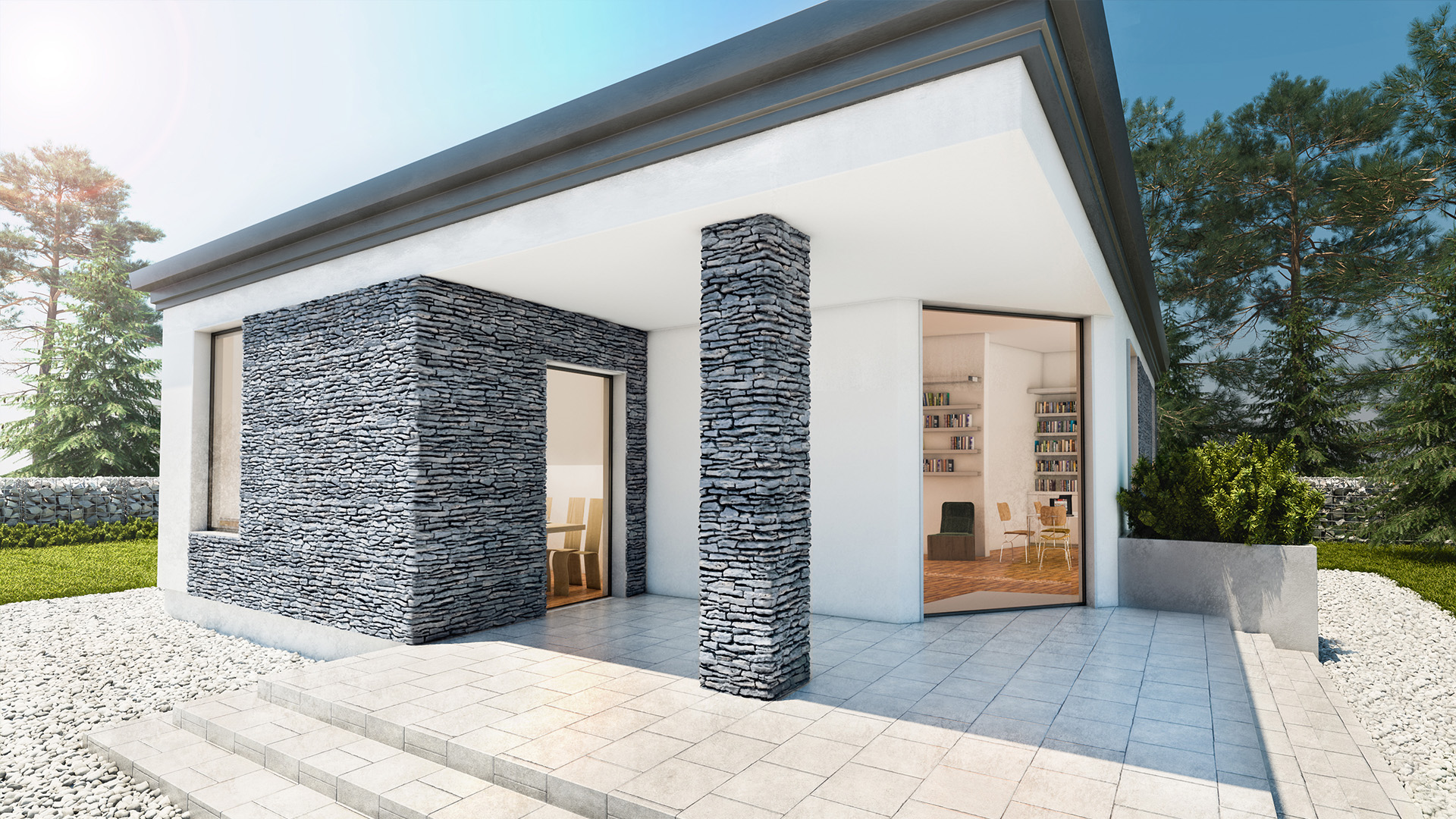 The technology of laying the facing material provides for the construction of a cushion. Along the house's foundation, a 10-cm-deep-trench is dug, with the subsequent filling with rubble. Before laying, the basement's surface and the material must be abundantly watered. The first row of facing stones is to be laid so that it rests on a prepared trench with rubble. The solution must be allowed to dry. Only after that, the second row can be laid. The resulting voids are filled with the solution.
The main task when laying is to maintain the facing layer in one plane parallel to the walls. In the case of different thicknesses of stones, the surface's evenness is ensured by the amount of solution under the material. The last stage of the whole process is the seams' grouting. It is accomplished with a special spatula.
Another facing method consists in the complete pouring of the basement's perimeter with concrete into the installed timbering. The facing material is prepared in advance and laid in the timbering. The initial layer of concrete that is poured into the timbering should not be more than the stones' height. Each subsequent layer is made according to the same principle, but only after the poured concrete dries.
After reaching the required height, the timbering is removed, and the stones are cleaned of dirt. The process is also ended by the seams' grouting. It is almost impossible to correct flaws that may occur during the installation after its completion. Therefore, the facing of a house should be carried out meticulously and conscientiously.